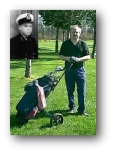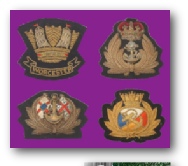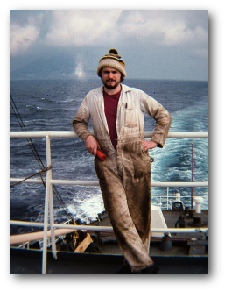 Please Note :- Most images are linked to larger versions. None are © to the best of my knowledge. My thanks to all the OWs that have collected or supplied their own pictures at various times. OWs feel free to plunder. Other people please ask. Please tell me if you would like your picture removed from the site or credited.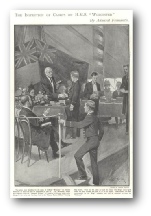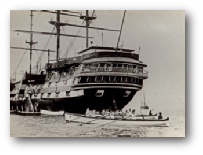 Worcester II Gig Practise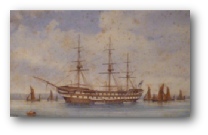 Worcester II Unknown Painting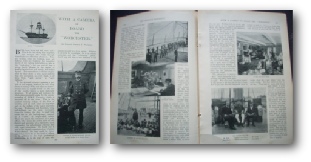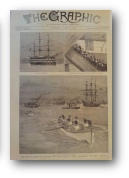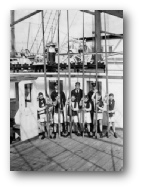 Boys Own Paper. Visits to Worcester II in 1893 and 1897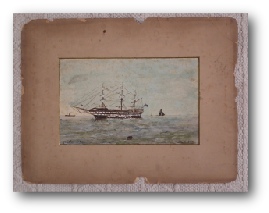 This original painting of Worcester II by W.L. Aston was donated to the AOW by Mark Wood, a gentleman from Kent. It was found in a bag, in a loft in Ashford Kent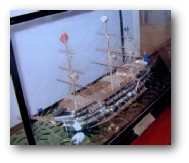 This Silver Model of Worcester II resides at Osbourne House on the Isle of Wight.

These 5 photos were kindly sent in by a Mr Ken Mugridge who says :- I was clearing out some old papers and came across these photos & reference of my grandfather W H Mugridge who served as seaman instructor on HMS Worcester 1895-1903. I never knew him, as he died in 1927. The child "Albert" would be my uncle who was killed in Palestine 1917. I live in Canada but I also served in the MN as a radio officer 1960-1970
Ken Mugridge, Salt Spring Island BC Canada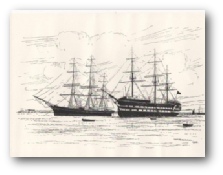 WM Birchall 1938 Cutty Sark and Worcester II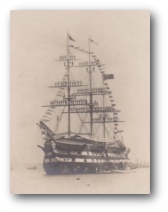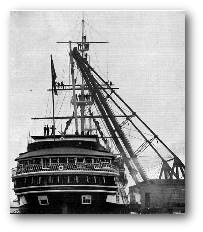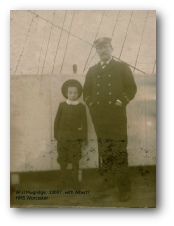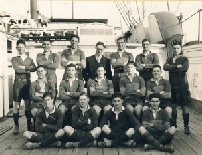 The photo on the left was kindly sent in by Alex Cooper who says - This is a photograph of my grandfather, Edward Colston Stewart (middle row 2nd from right) aboard HMS Worcester II in 1932. He gave the photo to his daughter, my mother Paula Cooper. Can you please upload the photo onto the website, so that other people can enjoy it. It was my mother who wrote the note, following the information given to her by her father Edward Stewart.
Alex's mother Paula has been in contact and says - "I'm so glad the photo can now be seen by many others. My dad gave it to me around 40 years ago never dreaming of course that one day there would be such interest in the Old Worcesters. When War broke out, he was in the R.AFVR in Bomber Command and became squadron leader flying 58 missions and decorated with the Distinguished Flying Cross. It was a miracle that he survived. He died in 1995."
This is a Slide Show of photos sent in by an OW. It depicts life on Worcester II and Foots Cray from 1938 - 1940 and includes the arrival of Cutty Sark. If anyone can tell me who's photos these are then please contact me with details.
I have been contacted by an Anne Lee who tells me that she has an ancestor who was on board Worcester II as a cadet and was instructed by Mr Mugridge in the photos above. Anne's relative wrote a book called "Ship Ahoy" which has a chapter about his life on board Worcester II and on to his career at sea on square riggers. It's an interesting read, warts and all ! It is no longer copyright and can be downloaded from the icon on the right.
Anne says this - "I would like to congratulate you on a fantastic website. One of my ancestors I believe was on the HMS Worcester II in about 1901-1903. His name was Charles Melbourne Jackson. He wrote a book based on his experiences at sea, including his time on the Worcester. It is called "Ship Ahoy!" and was published in 1922. He used the pseudonym Melbourne Garahan. I thought you might be interested. He wrote another book two years later, called "Stiffs" but I have not seen it, and I don't know whether it has any references to the Worcester. "
Details - Charles Melbourne Jackson - 901-03 Born: March 9th. 1887 : St. Kilda Melbourne Australia - Father : Charles Jackson – Architect Surveyor : Joined : Easter 1901 Left : Lent 1903 Joined : G. Petice & Co. Vessel : s.v. Cortsey : Left with 2x First Class Certificates.